---
This cafe was born of two simple passions; The love of top quality coffee and the desire to rescue cats. With this cafe and cat lounge, we aim to bring awareness to our furry little friends and to help them find their furrever homes. We wish to provide a safe and comforting environment for these rescue animals so please follow the rules. This will allow us to continue operation for years to come and, most importantly, help more cats.

Conceptualized in 2017 by Korey Jennings, "The Purrfect Cup" has grown into an organization of friends and family surrounded by the love of cats. Since its October 2018 launch the cafe has happily catered to family outings, private events, senior visits, and the classiest of date nights! Offering the best in locally roasted coffee products and locally prepared sweets - we even have homemade marshmallows!
---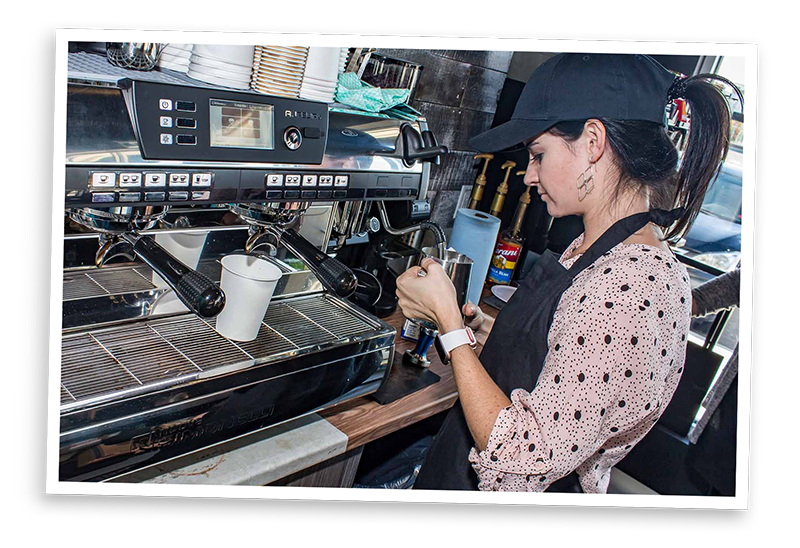 Our state-of-the-art Cat Lounge is located to the rear of our Cafe through glass windows and doors - keeping the coffee and treats free of kitty fur, as well as allowing visitors with cat allergies to visit and enjoy from a safe distance! The lounge features floor seating with tables, games, books, plenty of kitty toys, as well as a full wall of perches and bridges for our adventurous furballs. The lounge also hosts events such as Cat Yoga, Gift Wrapping, and is available for private event bookings.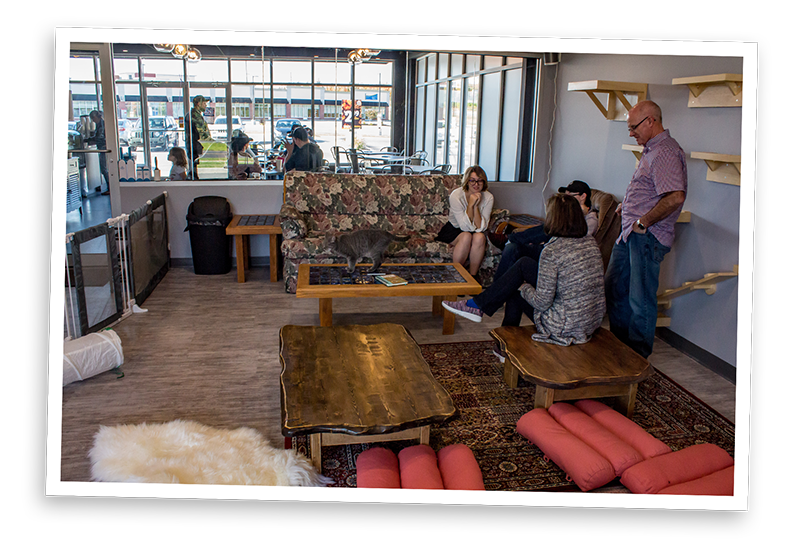 The Lounge can get very busy so to ensure that everyone has an opportunity to visit we have bookings available. Walk-in's are always welcome, but may be subject to a 30 minute wait or longer. Late arrivals for bookings will not be honored.
---
1 - All visitors need to sign a waiver. Don't worry, our furrballs aren't vicious, this is simply an insurance requirement.
2 - Parents please accompany children under 13. The Cat Lounge isn't constantly supervised so we ask that parents please help in keeping the kitties happy and safe.
3 - Please remove your shoes. We strive to keep the Cat Lounge clean and comfortable for both visitors, and kitties.
4 - Be gentle and don't chase the cats. Let them come to you! A lot of our cats are rescue animals so this rule is very important.
5 - Please do not pick up the cats. If they want to come and be social they will climb up onto your lap on their own!
6 - No outside animals. Unfortunately as per health regulations you cannot bring your own kitty - dont worry, we have lots!
7 - Do not feed the cats. The cats in our care are on supervised diets and may have specific dietary restrictions and allergies.
8 - No food or drink is allowed back into the cafe once it has entered the cat lounge. This is an important health code restriction so we ask that any food or drink brought into the lounge is finished and discarded before re-entering the cafe.
The safety and welfare of our kitties is a top priority at The Purrfect Cup and we ask that all of our visitors keep that in mind. Help us keep the Cat Lounge a fun and safe place for rescue kitties to play, find love and friends!
---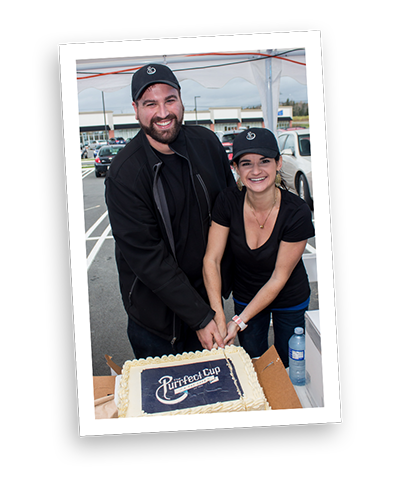 ---
To everyone who has helped us take this project from a crazy idea thrown around among friends, to an establishment we are so proud of, and one that is doing so much good. For everyone that helped - our friends who volunteered their various different skills including accounting, legal advice, branding, coffee and food suggestions, and manual labor - you are all a part of every adoption and every happy face in the café.

To the local business owners we have met and formed relationships with, we thank you for your support, time and energy.

To our employees who have become family (although some were already), we want to thank you for the roles you all took on, and the additional – sometimes unexpected, responsibilities we thrust on you. Your care and compassion make an immeasurable amount of difference to our furbabies and patrons. A special thank you to the shelters we work with, for your advice, flexibility and our shared passion for helping rescue cats. Our work would not be possible without your guidance and support.
---